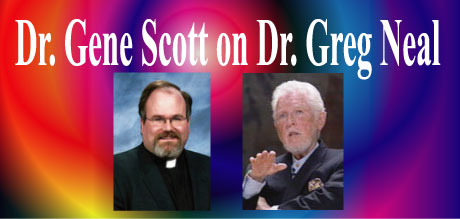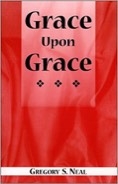 In 2000 Dr. Gregory S. Neal published the first edition of
Grace Upon Grace: Sacramental Theology and the Christian Life.
More than just a work of Systematic Theology, this book outlines Dr. Neal's personal and academic understanding of the Means of Grace as empowering our active-faith in Jesus Christ. Even though this book is a work of academic theology, many Christians have nevertheless found it amazingly helpful for their spiritual lives. As a result, it has found its way into several major internet bookstores as well as into brick-and-mortar bookstores around the country. After only a few years in print, it has already had an impact on the thinking of Christians in many different denominations, from Protestant Evangelicals to Roman Catholics. It has also gained the attention of several major theologians in academia, as well as of quite a few pastors and teachers.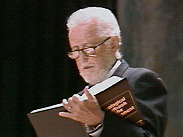 One of those theologians is Dr. w. euGene Scott, Senior Pastor of the University Cathedral in Los Angeles, California. Dr. Scott is a brilliant, world-renowned and respected scholar of Bible and Christian Theology whose shortwave, television, and internet broadcasts have taught millions who otherwise might not have ever heard the Gospel of Jesus Christ. Central to Dr. Scott's message is the gospel of salvation by Grace through Faith in Jesus Christ "with no buts attached." This message, and the integrity of Biblical scholarship and reverence for the Word of God which is principle in Dr. Scott's ministry, caught Dr. Neal's attention and respect and prompted him to write Dr. Scott and send him a copy of
Grace Upon Grace.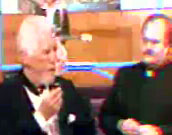 In response, Dr. Neal was invited to visit the Cathedral during a January 2001 trip to California. During this visit Dr. Scott and his staff gave Dr. Neal the full "red carpet" treatment, welcoming him with grace and friendship and inviting him to address the morning worship service at the Cathedral and the evening "Shalom" Communion service at Kings House One in Glendale, California. During the evening service Dr. Scott both surprised and greatly honored Dr. Neal by asking him to offer the prayer of consecration over the bread during the celebration of the Sacrament of Holy Communion. Given Dr. Neal's devotion to the Sacraments and his appreciation and respect for Dr. Scott, this was both a moving and humbling experience for him, and one which he will forever cherish in his memory. Many things divide Christians, particularly our opinions regarding the Sacraments. Dr. Neal believes that these divisions are a sinful blot on the body of Christ, and that great effort should be made to share in the Sacraments between Christians of many different denominational backgrounds. The invitation to concelebrate the Eucharist with Dr. Scott was both humbling and a great honor for Dr. Neal.
It was during the morning service, however, that Dr. Scott had a number of positive words to say about Dr. Neal and his book. Additionally, Dr. Scott invited Dr. Neal to address the Cathedral Congregation. In this address, Dr. Neal expressed his love and appreciation for Dr. Scott's ministry, and for the respect and devotion to the Word of God that the Gene Scott Bible Collection reflects. In his address, Dr. Neal said:
"As I searched the internet and the idiot voices on it, I met friends and they direct me ... one directed me ... to the website of someone whom I'd seen many years ago when I was doing a degree paper on, of all things, British Israelism. And, I thought: oh, I've seen him before. He's a little thinner ... and he is, still, the most incredible teacher I have ever seen. [I appreciate] His devotion to the Scripture, his devotion to teaching ... believing that everyone who is graced by God to hear and understand can ... and you don't need to leave that brain outside those doors. And, especially, coming from a Sacramental tradition -- as I am -- [I appreciate Doc as] a man who believes that God's grace can move through a congregation, can be appropriated by faith through the taking of the elements in the Sacrament of Holy Communion ... regardless of differences of opinion and interpretation, those aren't important. What's important is understanding and accepting that Jesus Christ is here, really present, giving his Grace, and empowering the Body of Christ. And I praise God that I have been truly honored to meet one of the best, most incredible ... I don't know what other adjectives to use ... one of the best teachers and pastors in the United States in the second half of the 20th, and now the first half of the 21st century. God bless you, Doc." (Transcribed from VF-1243 and revised by Dr. Neal)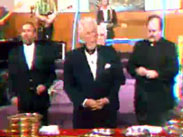 It was, indeed, a very special moment for Dr. Neal, one that he greatly appreciated and will remember for the rest of his life. Since that moment Dr. Neal has had other opportunities to address the Cathedral Congregation, but none stick in his mind as being as enjoyable as that first visit. Since 2001 he and Dr. Scott have maintained a quiet friendship, and with every opportunity Dr. Neal gets he always appreciates visiting with Dr. Scott and his congregation in Los Angeles California.
Dr. Scott's remarks, and Dr. Neal's response and address to the Cathedral Congregation, can be listened to by clicking the link below.
Dr. Scott's remarks about Dr. Neal and Dr. Neal's response
From:
VF-1243 -- 01/07/2001
© 2001, Dr. w. euGene Scott
Used by permission

All photographs of Dr. Gene Scott are
© 2001, Dr. w.euGene Scott
Used by permission
Captured from the internet
Shalom Service H-003 - 01/07/2001
The Reverend Dr. Gregory S. Neal
is the Senior Pastor of the First United Methodist Church in Commerce, Texas, and an ordained Elder in the North Texas Conference of The United Methodist Church. A graduate of Southern Methodist University, Duke University, and Trinity College, Dr. Neal is a scholar of Systematic Theology, New Testament origins, and Biblical Languages. His areas of specialization include the Theology of the Sacraments, in which he did his doctoral dissertation, and the formation and early transmission of the New Testament. Trained as a Christian educator, he has taught classes in these and related fields while also serving for more than 25 years as the pastor of United Methodist churches in North Texas.

As a popular teacher, preacher, and retreat leader, Dr. Neal is known for his ability to translate complex theological concepts into common, everyday terms. HIs preaching and teaching ministry is in demand around the world, and much of his work can be found on this website. He is the author of several books, including
Grace Upon Grace: Sacramental Theology and the Christian Life
, which is in its second edition, and
Seeking the Shepherd's Arms: Reflections from the Pastoral Side of Life
, a work of devotional literature. Both of these books are currently available from Amazon.com.