Pastoral Words In Memory of Dr. Gene Scottt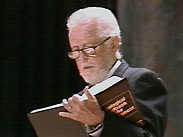 I would like to offer a word of remembrance about Dr. Gene Scott, and a word of blessing to his congregation. As a fellow under-shepherd of Christ's flock, I give thanks and praise to God for the honor and privilege of being able to say that Dr. Gene Scott was my colleague and, also, my friend. We shared a love for the Word of God in its many written forms, of Theology and of Church History, and of the central importance of proclaiming "the Kerygma" -- that salvation comes by grace through faith in Jesus Christ with "no buts" attached. We shared a common joy in having a sense of humor, and especially in being able to laugh at our own foibles. We experienced a common awe at the majesty of God's grace as communicated to us through all the many means of grace, and particularly through the Lord's Supper. I will always be thankful to God that, when I was in need of a pastor in 2001, Dr. Scott was there. Via the internet, this scholar and fellow pastor brought the Eucharist to me, in my home, day after day, and helped me to experience the Real Presence of Jesus even in the darkest hours of my illness.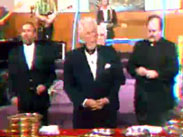 I am reminded of my visit with him in January of that dark year, of the honor he bestowed upon me when he invited me to address the congregation at the Cathedral, and of being asked to assist him in Holy Communion by blessing the bread. The memory of that evening Shalom Service, and of the powerful grace of God which was made known to me in and through my participation in that service, stayed with me all through my illness. During those many long months, as I struggled for renewed health, Dr. Scott was, truly, a means of grace for me. His prayers, his inspirational teachings, his daily online communion services, and most especially his friendship, all communicated the grace of our Lord and Savior Jesus Christ in ways that go beyond human comprehension. I can never repay Dr. Scott for blessing me in my Christian life and ministry. I only hope that, through words of encouragement in phone calls, letters, my books, my prayers, and what little opportunity I had to visit him, I was able to serve as a means of grace for Doc during his most difficult, painful, and exhausting last days. I take great solace in knowing that he appreciated our kindred spirit, our sense of a shared journey, our common faith in Jesus, and our common devotion to the Sacrament of Holy Communion. Today, at this very moment, it trills me to realize that Dr. Scott celebrates the eternal Eucharist at the Marriage Supper of the Lamb, and that one day I, too, shall be blessed to join him at our Lord's divine table.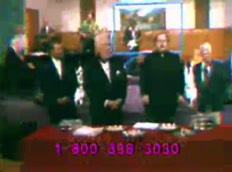 Dr. Scott has gone on to Glory. He has exchanged the perishable for the imperishable, the mortal for the immortal. He has received the perfection of Christ's Glory in both spirit and body; not only does he no longer know sin, he also no longer knows illness. Dr. Scott's healing has come to its fruition. We all earnestly desired to see his healing in this life, just as we should always desire God's sanctifying grace to transform our sinful natures in this life. Sometimes we are blessed experience both physical healing and imparted righteousness; other times, however, we must wait for glorification in order to know, in its fullness, the perfection of spirit and body which Jesus promises from the cross. This was the case with Dr. Scott, just as it will, some day, be the case for us all. Dr. Scott knew this, and yet he tenaciously hung on to the promises of Christ with an unfailing faith which was an inspiration for us all.
To Dr. Scott's congregation, and to you Mrs. Scott, I want to say this: stand in God's Grace. That is all that any of us can do during times like these. Give thanks and praise to God for the pastor you had, for the true privilege of being gifted with such a shepherd for your souls. Continue to learn from what he taught you and be a part of the effort to perpetuate the teaching until Jesus comes. There is, indeed, much work left to do. Nevertheless, in all of this we must remember that our lives as Christians are not about looking to the past or trying to recapture the by-gone-days. We should all be looking forward, to the future which the "God of the forefront" has in store for us. I believe that Dr. Scott would counsel his congregation to live in the "here and now," in an active faithful relationship with Jesus Christ. Faith, to be active, must be lived, and we cannot live in the past. If Dr. Scott's life and ministry stands for anything, it stands for exercising faith in every breath of our Christian being. That is what he did, every day of his life; can we do any less?
May the Lord richly bless each and every one of you, and may the Lord bless the memory and ministry of Dr. W. Eugene Scott. In the Name of the Father, and of the Son, and of the Holy Spirit. Amen.
Original Writing is
© 2005 Dr. Gregory S. Neal
All Rights Reserved
All photographs of Dr. Gene Scott are
© 2001, Dr. w.euGene Scott
Used by permission
Captured from the internet
Shalom Service H-003 - 01/07/2001
The Reverend Dr. Gregory S. Neal
is the Senior Pastor of the First United Methodist Church in Commerce, Texas, and an ordained Elder in the North Texas Conference of The United Methodist Church. A graduate of Southern Methodist University, Duke University, and Trinity College, Dr. Neal is a scholar of Systematic Theology, New Testament origins, and Biblical Languages. His areas of specialization include the Theology of the Sacraments, in which he did his doctoral dissertation, and the formation and early transmission of the New Testament. Trained as a Christian educator, he has taught classes in these and related fields while also serving for more than 25 years as the pastor of United Methodist churches in North Texas.

As a popular teacher, preacher, and retreat leader, Dr. Neal is known for his ability to translate complex theological concepts into common, everyday terms. HIs preaching and teaching ministry is in demand around the world, and much of his work can be found on this website. He is the author of several books, including
Grace Upon Grace: Sacramental Theology and the Christian Life
, which is in its second edition, and
Seeking the Shepherd's Arms: Reflections from the Pastoral Side of Life
, a work of devotional literature. Both of these books are currently available from Amazon.com.