Wellness as a Means of Grace
By: Dr. Gregory S. Neal

Have you ever looked up the word "health" in a dictionary? Among the mundane definitions of this word are: "a person's mental or physical condition" and "the state of being free from illness or injury." Far more intriguing is this word's origins: it has Germanic roots which are related to the concept of being "whole." In other words, being healthy means that one is "sound," "whole," or "complete."

Writing from personal experience, I can attest that wholeness can be fleeting and good health illusive. For many years I had been so focused upon matters of the mind and of the soul that I had failed to realize that an integral part of one's spiritual health is the proper care of one's physical body. Being "healthy" means that one recognizes the need, and takes the time, to care for the whole self: mind, spirit, and body. Sadly, there are many temptations to ignore the proper care of the self. We eat foods that are bad for us, and in amounts that are horrifically large. We drink coffee and soft drinks and other beverages that can tear us apart and pile on the pounds. We live sedentary lives, lacking physical activity and true recreation. We watch too much television, sit in front of computers for too many hours, and don't take enough time off. All of this was me. For a long time, through poor diet and lack of exercise, I added pound upon pound until, in January of 2006, I found myself weighing an all-time personal high of 364 pounds.

Now, granted, I'm a big guy; I've always been a big guy, and with an endomorphic body-type I will always be a big guy ... but 364 pounds isn't just ridiculous, it's sinful. I had failed to care for the physical temple that God had given me, and I was suffering as a result.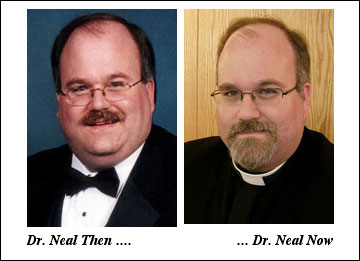 And so, one afternoon early in 2006, I came to the decision that this had to change. After asking God for help, I went to the doctor and we set up a comprehensive wellness plan of diet and exercise. I joined a health club, obtained a personal trainer and a dietitian, and went to work on rebuilding God's gift. Physically I was a mess! Up until that time the most sweating I would do during any week was while preaching on Sunday mornings! I couldn't walk on the treadmill for 10 minutes at 2 mph without being on the brink of collapse, and climbing more than a single flight of stairs would leave me out of breath. I was in terrible shape. The dietitian put me on a strict diet which would have been difficult to keep without the help and encouragement of family, friends, and a church that loved me. True, there were times when I was convinced that my physical trainer was Satan incarnate, but after 9 months I have managed to lose 100 pounds of fat while adding 12 pounds of muscle. I have gone from a 52 to a 46 inch waist and can walk on the treadmill for over an hour at 4 mph without being totally wiped out. But, most importantly, my entire attitude on life and on physical activity has changed.
During my growing-up years I learned to look upon physical exercise as being tantamount to torture. In school I had a coach who, far from instilling in me a love and appreciation for sports, would take great delight in using physical exercise as a form of "punishment." As a result I learned to dread and despise any form of strenuous physical activity. I hated "working up a sweat," and if I could avoid it I would. Thanks to God's presence in my experience, however, my whole outlook has changed. Far from loathing strenuous physical activity, I have found in exercise yet another Means of Grace.
We all know that Holy Communion, Baptism, prayer, the reading and proclaiming of Scripture, worship and fellowship are all Means of Grace. These spiritual, sacramental disciplines are instrumental ways through which God gives us Divine love and favor. There are many other Means of Grace than just those that have been traditionally identified, and I am convinced that among them are proper diet and physical exercise. When I am working out at the gym -- walking on the treadmill, riding the stationary bike, lifting weights, or swimming in the pool -- I am often amazed at the immediacy of the Real Presence of Jesus. On the treadmill I will find myself closing my eyes and, as I push myself for yet another mile at an ever-increasing incline, I will find my mind and my spirit opening to the voice of God. In those prayerful moments, as I stretch myself and reach for God's greater health, I discover within myself the gift of God's grace, sanctifying me and making me whole.
Wellness is not just a good idea; wellness isn't just a conference initiative; wellness is a Means of Grace. In and through caring for our bodies, our minds, and our souls, we are contributing to God's good gift in creation, we are furthering God's Will of sanctification for us, and we are "moving on toward perfection."

© 2006 Dr. Gregory S. Neal
All Rights Reserved
The Reverend Dr. Gregory S. Neal
is the Senior Pastor of the First United Methodist Church in Commerce, Texas, and an ordained Elder in the North Texas Conference of The United Methodist Church. A graduate of Southern Methodist University, Duke University, and Trinity College, Dr. Neal is a scholar of Systematic Theology, New Testament origins, and Biblical Languages. His areas of specialization include the Theology of the Sacraments, in which he did his doctoral dissertation, and the formation and early transmission of the New Testament. Trained as a Christian educator, he has taught classes in these and related fields while also serving for more than 25 years as the pastor of United Methodist churches in North Texas.

As a popular teacher, preacher, and retreat leader, Dr. Neal is known for his ability to translate complex theological concepts into common, everyday terms. HIs preaching and teaching ministry is in demand around the world, and much of his work can be found on this website. He is the author of several books, including
Grace Upon Grace: Sacramental Theology and the Christian Life
, which is in its second edition, and
Seeking the Shepherd's Arms: Reflections from the Pastoral Side of Life
, a work of devotional literature. Both of these books are currently available from Amazon.com.